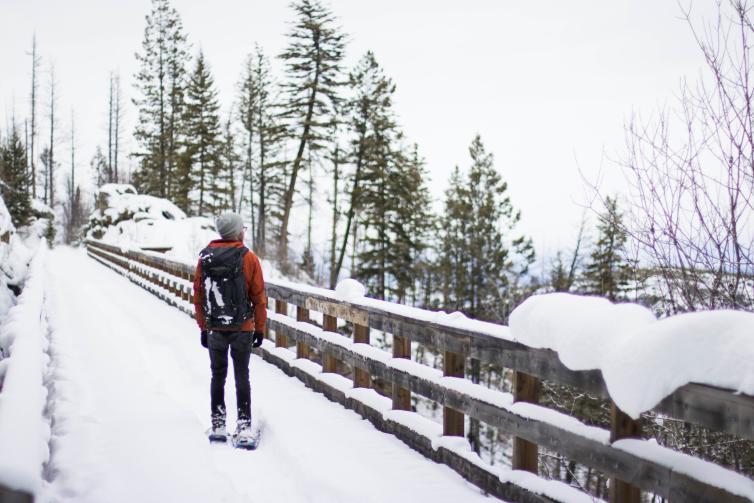 8 things to do in the Okanagan winter
Winter isn't quite over in our Okanagan valley. Rather than wishing it away, enjoy the last few weeks with some great outdoor winter activities!
Yes our City is well-known as a summer tourist destination, but there are some great hidden gem winter activities that the locals know well. The Okanagan boasts mild enjoyable winter climates and along with that, fun outdoor activities where you're not going to ask, "why do I live somewhere where the air hurts my face?"

Here are 8 outdoor activities to do during the winter months in Kelowna and the Okanagan valley:
1. Snowshoe the trestles
Threre are a lot of avid hikers throughout the Okanagan valley who don't want to stop due to a little snow. That's why snowshoes have been a great investment. The Myra Canyon Trestles is a great place to bust out the snowshoes, whether you own or rent. It sits 3,000 feet above Lake Okanagan with panoramic views stretching from Kelowna to West Kelowna.
More information on the Myra Trestles: https://www.myratrestles.com/
2. Frosted waterfall hikes
If you find yourself in the lovely district of Peachland, BC. you'll want to make a stop at Hardy Falls. It is just a short, flat, well-marked trail that is well-maintained and leads to a stunning frosted waterfall during the winter months.
More information on Hardy Falls frosted waterfall hike: https://www.peachland.ca/hardy-falls
3. Icewine tasting
Cold temperatures mean wineries can start their ice-wine harvest. Ice wine is a delicious type of dessert wine produced from grapes that have been frozen while still on the vine. There are several Okanagan wineries that produce ice-wine. Visit any of the below vineyards to find your favorite!
Arrowleaf Cellars, Calona Vineyards, CedarCreek Estate Winery, Grizzli Winery, House of Rose Winery, Mission Hill Estate, Mt. Boucherie Estate Winery, Quails' Gate Winery, St. Hubertus & Oak Bay Estate, Sandhill Wines, Sperling Vineyards, Summerhill Pyramid Winery, Tantalus Vineyards, The Vibrant Vine, and Volcanic Hills Estate Winery.
4. Ski resorts
The Okanagan's two local ski resorts have no shortage of winter activities to keep the family busy. At Big White Ski resort, you can find dog sled tours, horse drawn sleigh rides, ice climbing, ice skating, kids snowmobiles, tubing, snowshoe tours, fat biking, and brewery tours – to name just a few. Silver Star Mountain Resort in Vernon boasts an intimate, colorful mid mountain village providing true slope style lodging. It also has plenty of activities such as cross country skiing, night skiing, heli-skiing, snowmobile tours, etc.
More information on Big White Ski Resort: http://www.bigwhite.com/geo/kel
More information on Silver Star Mountain Resort: http://www.skisilverstar.com/?location=CA
5. Cross country skiing
Situated in the hills with its closest access just 20 minutes east of Kelowna BC, the Kelowna Nordic Ski and Snowshoe Club offers rustic facilities and 75 km of beautiful wooded ski trails, coupled with state-of-the-art grooming and track-setting.
More information on Kelowna's Nordic: https://kelownanordic.com/
6. Curling
This may not be outdoors but it is one of the most Canadian activities one can do! The Kelowna Curling Club is one of the largest clubs in the world with 12 sheets of curling ice. On Sunday's you can curl for $20 per person which includes a burger at the upstairs lounge!
More information on the Kelowna Curling Club: https://www.kelownacurling.com/
7. Adventure skating loop
The Skating Loop at Apex Resort is a winter wonderland adventure. Guests enjoy gliding through the forest on this 1 km loop, maintained to a sparkle. The experience at night is nothing short of magic, as the lights come on and the winter landscape unfolds around you.
More information on the Adventure skating loop at Apex Mountain Resort: https://www.apexresort.com/activities/adventure-skating-loop/
8. Snowmobiling
Snowmobiling in Vernon is legendary. Blast your way across frozen lakes, through open meadows and up and around snowy trails on a snowmobile. The Vernon Snowmobile Club has a map of the best places to go on the mountain as well as a description for some of the trails.
Those of you who didn't bring your own snowmobile can rent them up at Silver Star through Okanagan Recreation Rentals.
More information on Snowmobiling in Vernon: www.tourismvernon.com/en/see-and-do/Snowmobiling.aspx
We hope these winter wonderland adventures provide you with some options to jazz up your visit to the Okanagan during the chilly season. Feel free to reach out to us at Apres Tours for more winter activity suggestions!