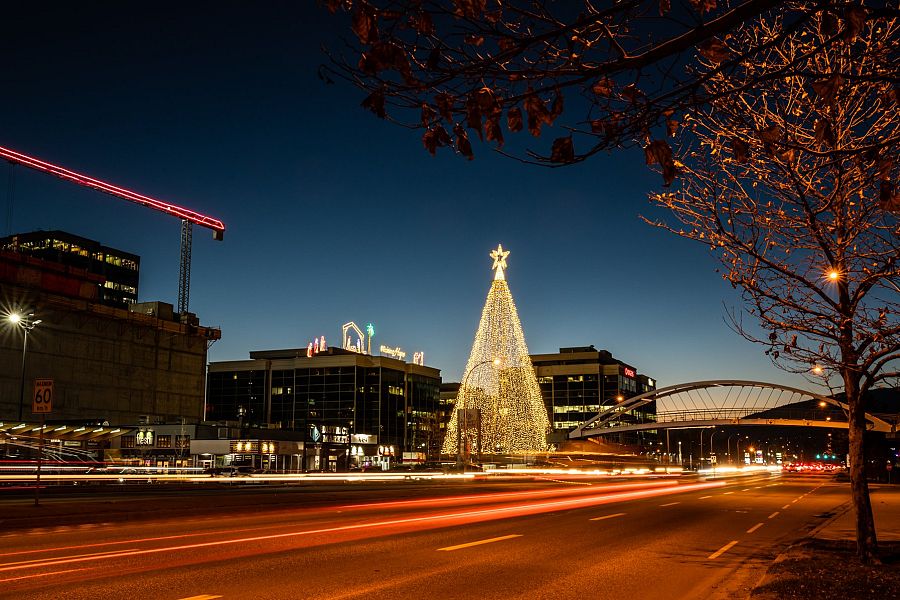 On

November 23, 2022

In News
Tags:
No Comments
Tree of Hope
A beloved holiday tradition in Kelowna will take place later this week.
The Tree of Hope will light up in the Landmark District on Friday night, marking the 25th year it shines bright in central Kelowna.
The lights will turn on at 5:45 pm on Friday, although organizers urge people to get there by 5:30 pm, and you can watch it live from the comfort of your own home on the KelownaNow Facebook page.
Photo Credit: Contributed
It was a quarter century ago that the annual tradition took form and it certainly had humble beginnings.
Al Stober came up with the idea to dangle a giant Christmas tree from a 160-foot construction crane, which was standing idle next to the completed shell of Landmark 2.
Knowing that the crane wouldn't be used until the new year, Al drew a little sketch on a napkin at a local restaurant and showed it to his sons, Ken and Mark.
The plan was quickly put in place and the tree was up in all its glory for the community to enjoy by early December.
Al passed away in 2019, but the Tree of Hope is one of his many legacies that lives on in Kelowna.
"Lighting the Tree of Hope each year brings so much pride and joy to my life because we are able to continue Al's vision of creating a tangible focus of inspiration and hope for thousands of people in our community each year," said Ken, who is now the director of the Stober Group.
"The Tree of Hope represents so much more than just the holidays. It represents community, connectedness, and collaboration. It's a celebration of what we can achieve and inspire when we all come together as one."
There is a fundraising aspect to the Tree of Hope each year and those efforts will be focused on the YMCA of Southern Interior BC and BCG Okanagan in 2022.
You can donate through the Tree of Hope website and the Stober Foundation will be matching all funds raised up to $500,000.
Once lit on Friday night, the tree will stay that way through the holidays before being turned off on Jan. 2.