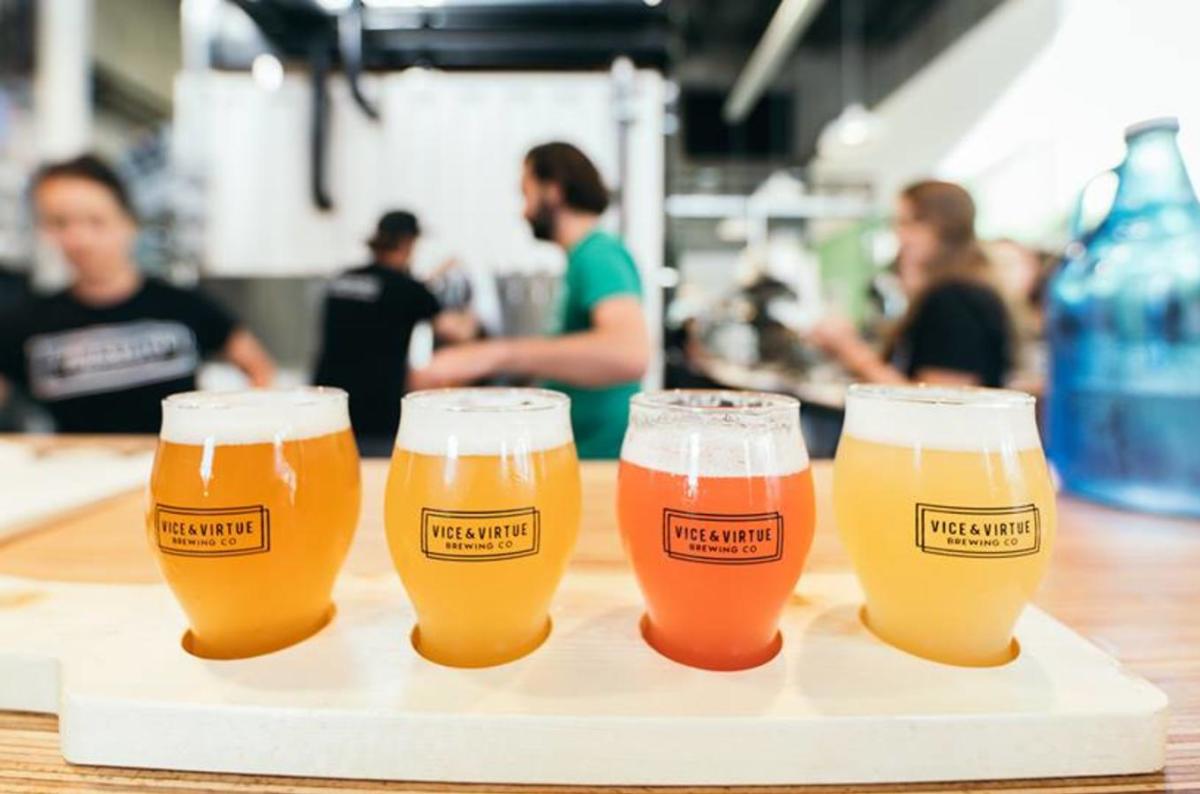 KELOWNA'S CRAFT BEER SCENE
In the past few years, the craft beer scene has grown exponentially in Kelowna and you can now find over 15 breweries in the city! From hoppy IPAs to smooth pilsners and even some fruity lagers, you're bound to find your perfect pint at one of Kelowna's breweries. Not only are the drinks great, but so are the tasting rooms, which range from large, full-service eateries to tiny micro-breweries, but they all have one thing in common, a relaxed, friendly, and welcoming vibe.  Here are a few options for you to start exploring!
You might not be able to visit all the breweries right now, so make sure you check their websites for tasting room opening dates, tasting hours, and pick-up options.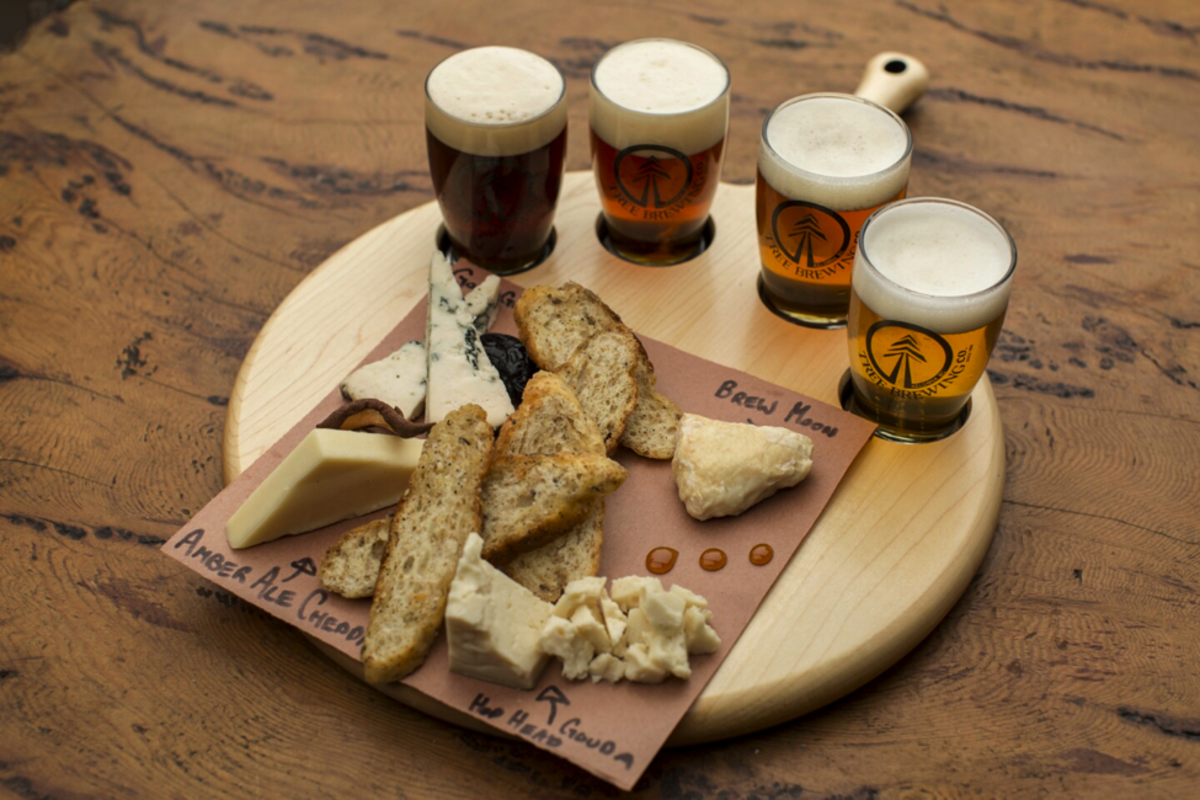 Tree Brewing is the OG of craft brews in Kelowna! They began their journey as the local ale in 1996, and in 2014 they opened the Tree Brewing Beer Institute in downtown Kelowna, helping to stay connected, sharing their knowledge and passion for craft beers, and providing a space for people to come together to taste great beers. You can enjoy a range of styles and flavours from light, to pale, to bitter, to dark. You'll also find year-round "classics," seasonal rotating taps, and limited release offers as well as some great beer-inspired eats, such as spent grain pizzas or pretzels.
Tree Brewing Beer Institute re-opened on May 21. Check their website or social media for more information.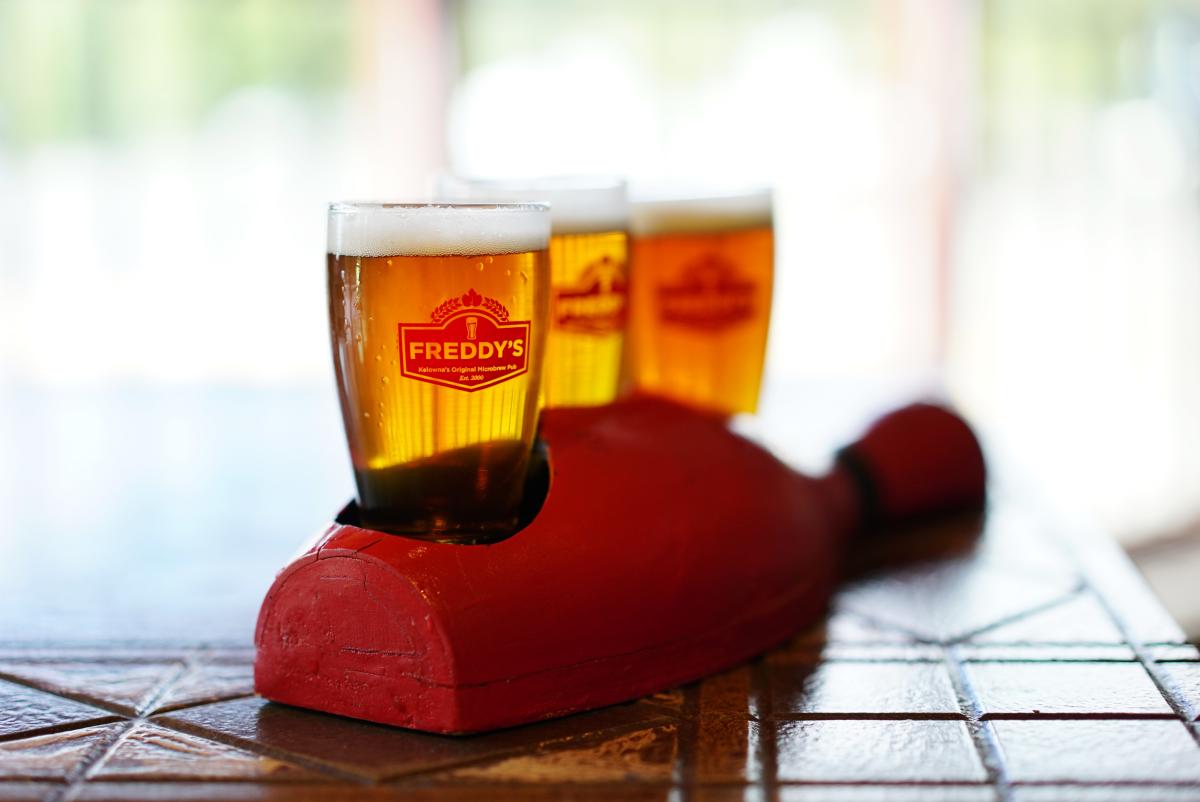 Freddy's is Kelowna's first microbrewery and has been brewing craft beer for over 19 years. They have a huge following for their Big Lebowski Lager, which is fitting since they have 30 lanes of bowling attached. They offer four core brands and some great seasonal brews to keep things ever-changing on their beer list. They also have an exceptional breakfast, lunch, and dinner menu with great weekly specials.
Freddy's is currently open for take-away. Check their website and social media for information on hours and updates on re-opening.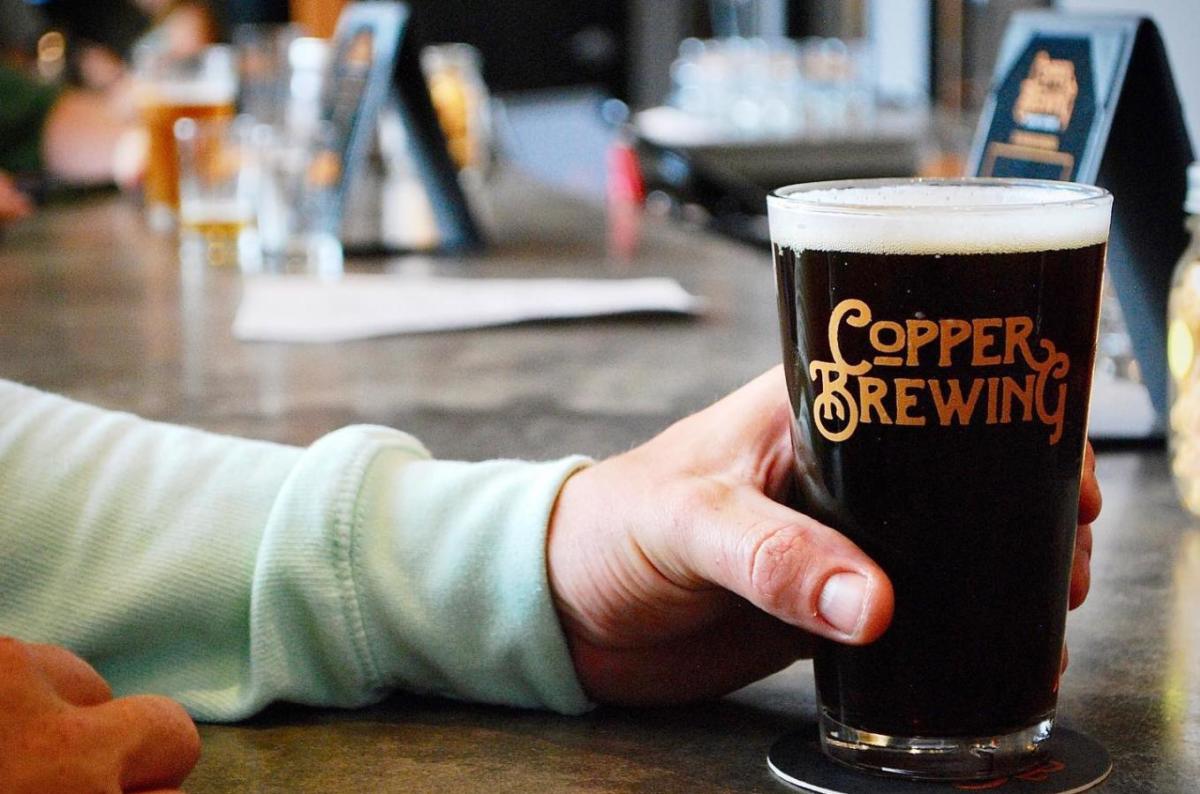 One of the newer additions in the Kelowna craft beer scene, Copper Brewing is dedicated to providing approachable and easy-drinking craft beer, using local ingredients and fresh Okanagan water. And with 20 taps to choose from, which is always changing with new and creative options, you're sure to find something you'll love. Copper Brewing has also partnered with their neighbours, MontREAL Foods so you can order from their full menu Monday through Saturday!
Both the taproom and patio at Copper Brewing are now open. Check their website or social media for more information and hours.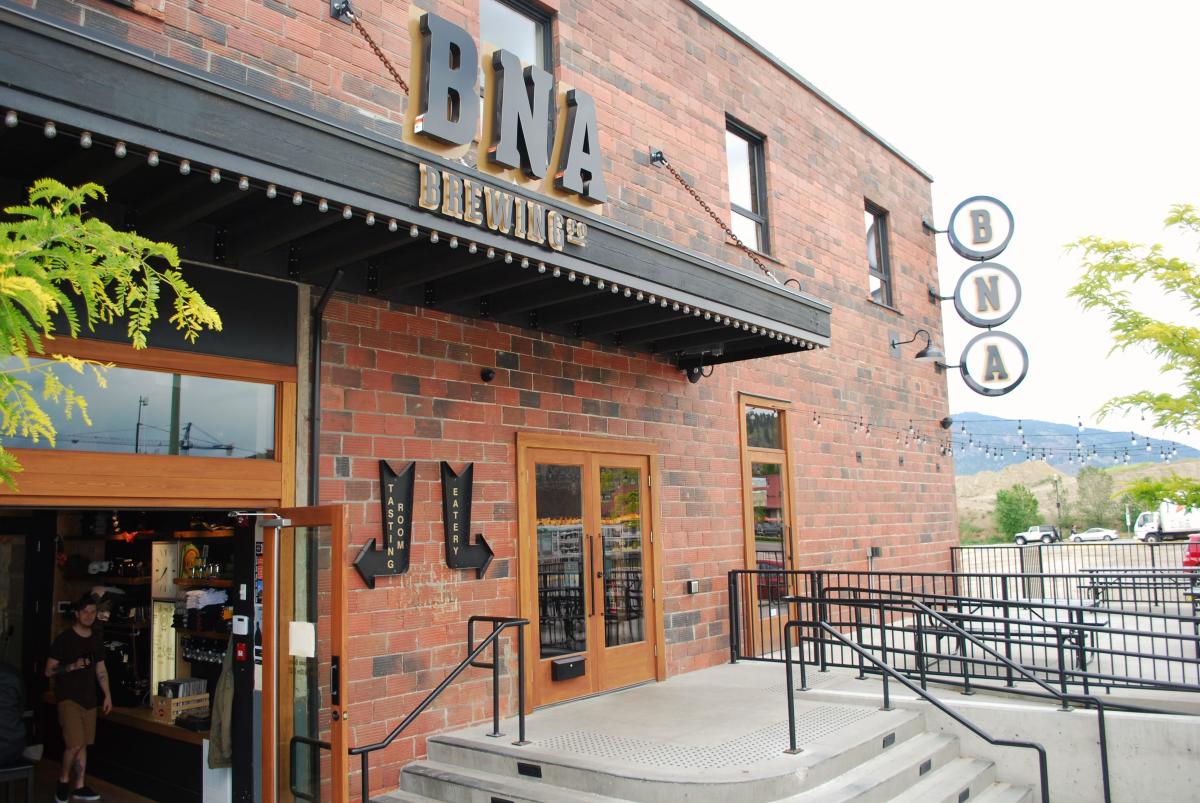 Bang in the middle of the cultural district, BNA has it all—a great selection of craft brews, a fun-filled tasting room, and an expansive restaurant with delicious eats, bowling and bocce ball, and even some of your favourite '80s and '90s video games. The selection of taps includes Earl pale ale, a wild blonde ale 'Lil' Pip," Big Mario IPA, and Canary in the Coal Mine – Porter (just to name a few). With such a great rotating tap menu, you'll want to come back time and time again.
The tasting room is currently open. Check their website or social media for information on hours and updates on the re-opening of the restaurant.
Downtown Kelowna's Northend
The north end of downtown Kelowna—which used to be an industrial area—has become the mecca of Kelowna's brew culture. You can currently find 5 breweries, Kettle River, Red Bird Brewing, Vice & Virtue, Rustic Reel, and Jackknife Brewing, all in a two-block radius and each one of them offers something unique and extraordinary. And, if you're looking for something a little sweeter, you can also visit a cidery.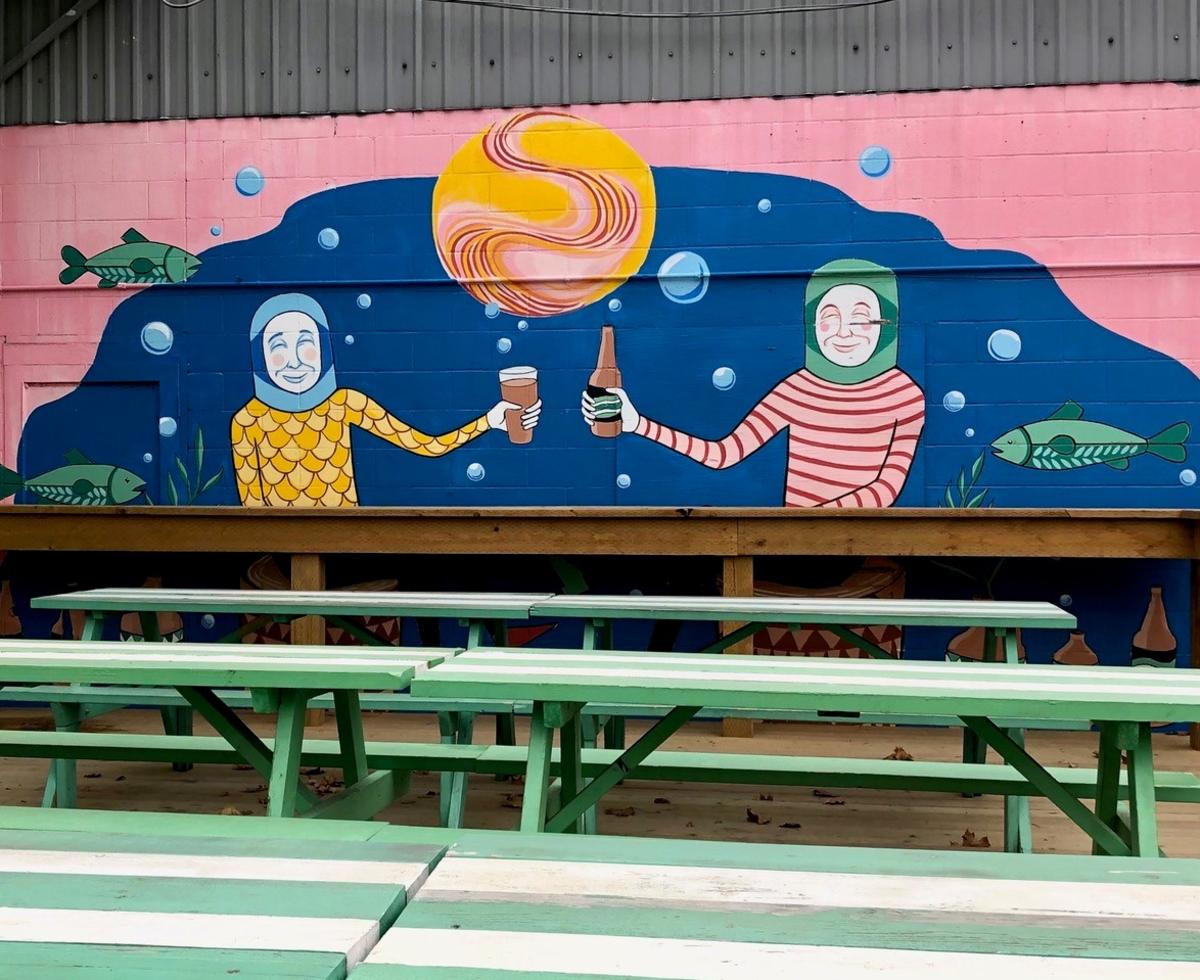 The original brewery in the north end, Kettle River is a small batch neighbourhood brewery. It's got a quaint and eclectic vibe and the patio is a great addition in the summer months, where they hold a variety of music gigs. They brew small batch and are known for being inventive and experimental with their ales. They have a great variety of brews, including Business in the Front, a crisp and clean blonde ale, Party in the Back, a full-bodied blonde ale, or the ever-popular Under the Weather Chocolate Milk Stout, a smooth dark ale.
The tasting room is set to reopen on Saturday, May 23. Check their website or social media for more information.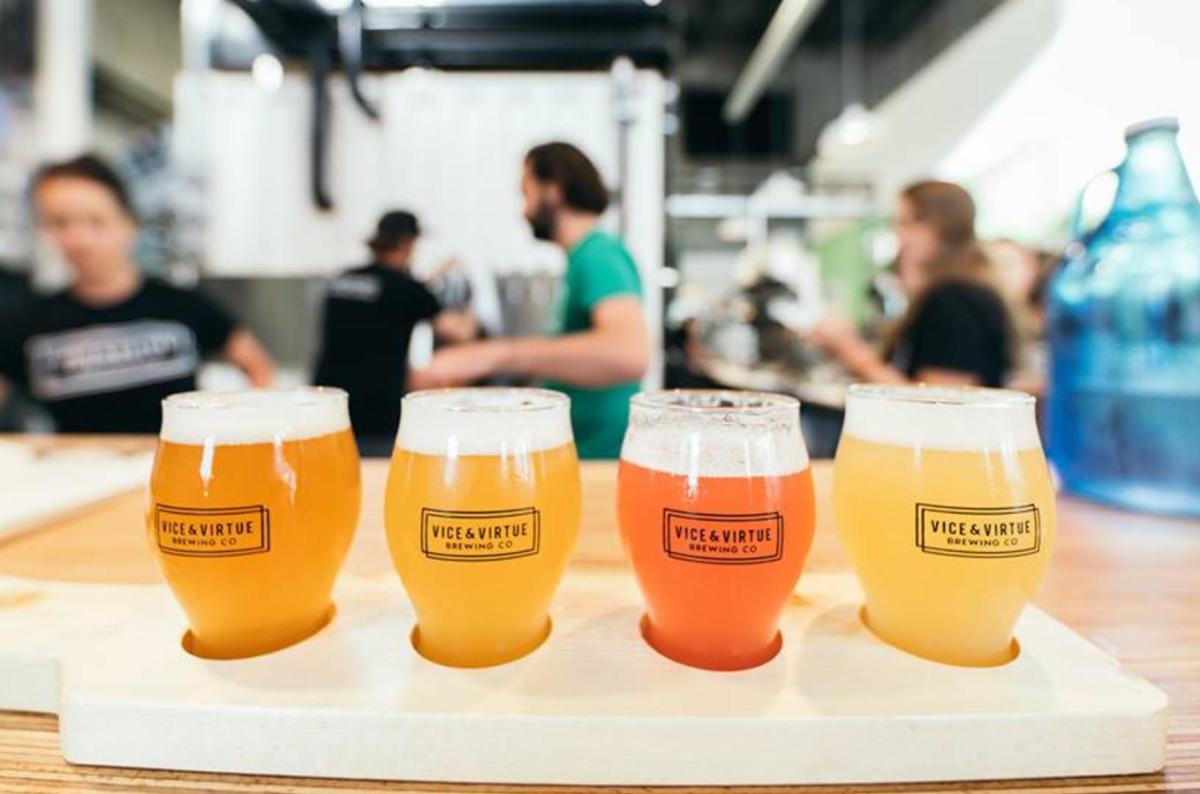 Born out of a friends' collective love for good beer and good food, Vice & Virtue has become a staple of Downtown's North End breweries. With locally-sourced grains and beers brewed in house, they offer a great selection of rotating ales. Some Vice & Virtue favourites are the Love Potion Rasberry "Berliner Vice," the Homewrecker Hazy IPA, and the White Lie Pilsner. You can come for the beer, but you're also going to want to stay for the delicious eats! Their food program is inspired by quality produce from local farms and is characterized by bright and bold flavours, fermented and preserved goods, and a whack of charcoal and smoke.
Vice & Virtue is set to reopen for take-away on Friday, May 22. Check their website or social media for information and hours.
This is not an exhaustive list of breweries in Kelowna, as there is a long list of great places to discover. What are some of your favourites in the area?
See the original article provided by Tourism Kelowna here