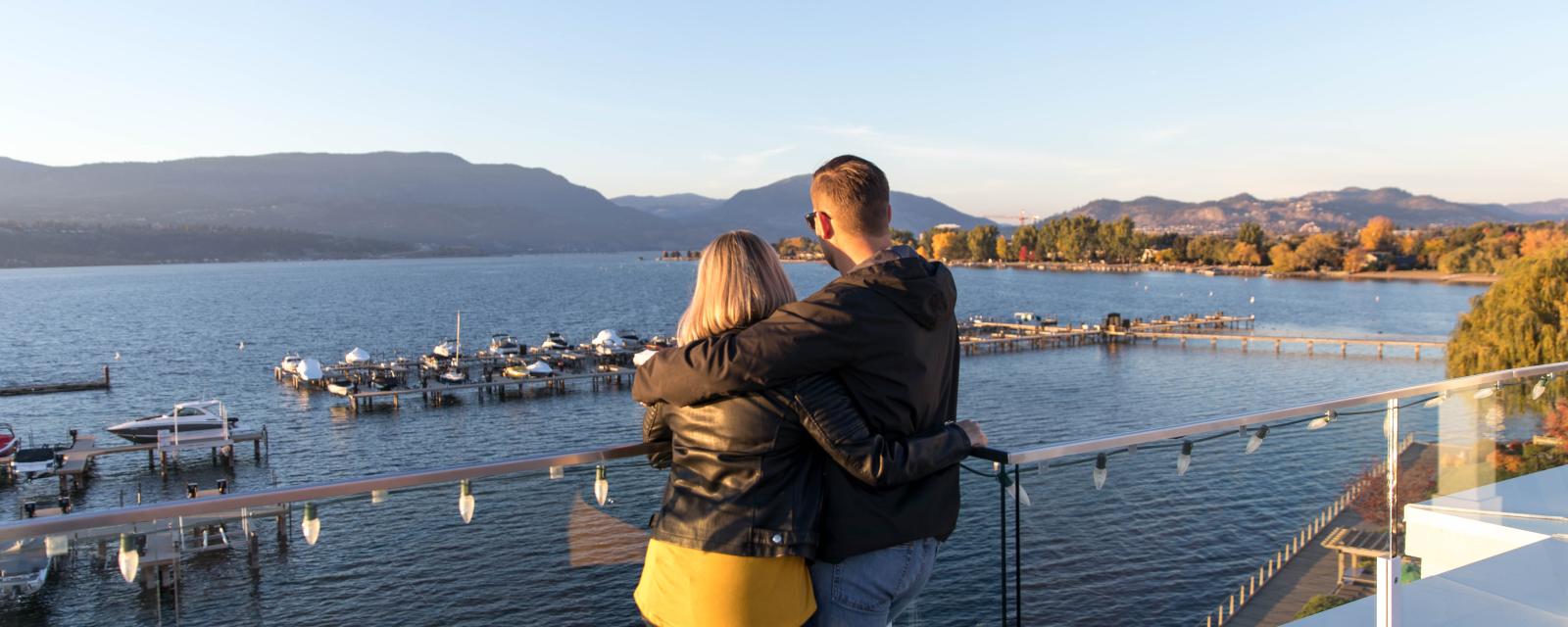 On

September 2, 2022

Tags:
No Comments
Adventure In Kelowna
Have a look at this article below and it will tell you how to explore Kelowna properly with a nice glass of wine! Support Local!
~Thanks Team Apres
Fall in Kelowna, for many, is the perfect time to visit. Fewer people and a slower pace mean you can get more time and more space to experience each stop. And with acres upon acres of vineyards, orchards, and larch forests, for a few weeks a year, the valley turns into a festival of colours.

There are many different types of accommodations you can choose from and you'll find tons of bed & breakfasts peppered throughout the Kelowna area. These provide exceptional and exclusive service and it can be really great having a host that can serve as a guide, offering recommendations and suggestions on what to do or places to visit.

There is also a large selection of hotels and motels, and many of them offer weekly rates or special deals for longer stays.
Day 1: Welcome to Kelowna Wine Country

Photo by: Wines of British Columbia
There is no time like the present to begin your introduction to the Kelowna wine scene and with over 30 wineries open during the fall and winter months, you have plenty to choose from. There are several specific trails in the Kelowna area, each one is slightly different in what they offer but they are all equally amazing.
The Westside Wine Trail in West Kelowna has the largest collection with 14 wineries that range from grand architectural marvels like Mission Hill Family Estate to small quaint tasting rooms like Kalala Organic Winery.
Sip South East Kelowna is known for its rolling hills, bucolic fields, and winding country roads. Most of the family-owned tasting rooms have a rural, cool, and funky farm feel to them such as The Vibrant Vine that offers 3D glasses to view their labels.
The Lakeshore Wine Route winds along the shores of Okanagan Lake and offers breathtaking views. This is home to some of the valley's oldest vines and most established vineyards, but it's got its fair share of quirkiness, too, which includes a maze made from vines at Sperling Vineyards and a fully functioning pyramid at Summerhill Pyramid Winery.
Located just north of Kelowna, Lake Country is a quaint rural town that lives up to its name. Three stunning lakes, Okanagan, Wood, and Kalamalka, are nestled amongst rolling hills, vineyards, and orchards, which almost guarantee a stunning view from wherever you stop, giving the name to the area's wine trail, The Scenic Sip.
The best way to explore and enjoy any of these wine trails is to book a Guided Wine Tour. You can sit back and enjoy the scenery, learn about the area, and not have to worry about booking reservations or driving to each winery. There are many different types of wine tours from half days to full days, small group shuttles to private drivers, so you'll be sure to find an option that fits the needs of you and your family.
Day 2: Not Just Wine

Jackknife Brewery. Photo by: BC Ale Trail
Kelowna is also home to 20 breweries and has become well known for the quality and diversity of its craft brews. Beer lovers will find producers who pour precisely hopped IPA's and experiment with flavours and ingredients that come from Kelowna's own backyard.
Kelowna's Northend Brewery District has exploded with 9 breweries all within walking distance. Not only do the breweries have amazing beers on tap, but they are also some of the best and most interesting food spots in Kelowna. Jackknife Brewing quickly has become a locals go-to spot for pizza, Kettle River Brewing has a fantastic rotating burger, Vice & Virtue smokes up some of the best fare with their in-house smoker, and Welton Arms has some of the best British food one could wish for outside of the UK, the list goes on and on.
Beyond the Northend, one can find some of the most unique food and beer pairings. At BNA Brewing, try a Banh-mi at BoxCar Kitchen (which is inside the brewery tasting room), with a pint. At Barn Owl Brewing you can often find food truck Little Toyko Ramen parked outside (which is one of the best spots for ramen) on the weekends. Copper Brewing at the Landmark District has a really fun selection of gourmet hot dogs that includes the Taco Dog, Ze German Dog, or even the What The Dog, which includes Thai peanut sauce, dill pickles, bacon, and hickory sticks!
Day 3: Take a Hike and Stay Downtown

Time to get the heart pumping and the camera out (or the phone) and explore some of the hiking trails that make up this four-season outdoor playground. A great popular option is Knox Mountain – centrally located just on the edge of downtown Kelowna, it offers several trails so you can customize your hike. From the parking lot you can hike up to the Lower Crown Lookout (mid-point), and from here you can either continue uphill towards Upper Apex Lookout for some stunning panoramic views of the city or take Paul's Tomb Trail a more mellow stroll that offers amazing views of the lake (and has very little incline). For more hiking options view the full list of hiking trail options in the area.
After your hike, stay in the downtown area and grab some lunch at one of the many restaurants in and around Bernard Ave (The Bohemian Café, Krafty Kitchen, or Antico Pizza are excellent options). Downtown you can stroll the 2km boardwalk that leads from City Park, all the way to the Rotary Marsh Bird Sanctuary, and try and spot the Osprey, turtles, and maybe even deer. With cool little boutiques and stores, this area is great for shopping, coffee breaks, and overall people watching.
Day 4: Trestle Bridges and Indoor Fun

Photo by: Destination BC and Kari Medig
One of the most spectacular places to visit in Kelowna is Myra Canyon Trestles along the Kettle Valley Railway. Originally built between 1912 – 1914, this 12 km section that runs through Myra Canyon includes 18 restored trestle bridges and two tunnels. It's a breathtaking area to explore, and with it being virtually flat, it's a nice easy hike or bike. Bike rentals are only available until early October, so make sure you bring your own if you would like to bike the trestles. Once the snow has fallen, it also makes for a great snowshoe adventure.
After several days of exploring Kelowna's outdoor playground – it's time to take the fun inside, and you'll find many options to keep you entertained. You can learn how to throw axes at Axe Monkey's, discover the world of simulators and enjoy a huge selection of adventures at Simplex Sportszone, or get some energy out of the kids at Eneryplex which has activities for all different age groups.
Day 5: Understand the Roots

Photo by: Sncewips Heritage Museum
On your last full day, head towards the Cultural District in downtown Kelowna. This 6-block area features a great selection of galleries that showcase local, national, and international artists, museums that range from heritage to military to art, performance art theatres, as well as some great coffee shops and dining options to round out your day.
If you want to delve into the history and understand the origins of this area, must-stops are the Okanagan Heritage Museum, where you can discover the "natural and human history of Kelowna" and learn about the syilx/Okanagan People and their close connection to the land, as well as the Sncewips Heritage Museum (located on Westbank First Nation lands), who are dedicated to collecting, preserving, interpreting, and showcasing art and artefact collections of the natural history of the syilx/Okanagan People.
Support Local
As you are getting ready to leave and head back home, make sure you make a quick stop at the Kelowna Visitor Centre to support local by picking up some souvenirs or gifts to take with you. You'll not only find Love for Kelowna and Kelowna Vibes apparel but also locally-made products and art from over 100 small businesses. And, you can always pick up a few brochures, talk to our friendly team, and start planning your next trip to Kelowna!
Your itinerary for Kelowna is all set, now all you have to do is book your accommodation, from lakeside resorts to quaint bed and breakfasts to everything in between, your trip to Kelowna is just a couple of clicks away.